Greetings Viking Families: We have rescheduled Parent Teacher Conferences for Wednesday April 21, 2021 from 4:30-6:30 pm. Zoom options will be available. Please be on the lookout for correspondence (a text, email, etc) from your child(ren's) teachers stating how and when to sign up for Conferences. Thank you!

Greetings Viking Baseball & Softball Teams! Tomorrow's Games Updates: Baseball JV: 2:00 pm @ home vs. Mogollon (until 3: 45 pm) Varsity: 4:00 pm @ home vs Mogollon Softball JV: 4:00 pm @ home vs. Mogollon Varsity: 2:00 pm @ home vs. Mogollon Good luck Vikings!

Greetings 10th & 11th Graders: Tomorrow begins Spring Testing at WHS. 11th graders will take the ACT on their Chromebooks (first time ever!) in the HS Gym in the morning. 10th graders will take ELA-Writing on their Chromebooks in the classroom in the morning. To create the optimal testing conditions for maximized results, we ask students to: Bring their fully charged Chromebook Get plenty of sleep prior to testing dates (8-10 hours) Hydrate your brain with water, avoid excessive caffeine Eat a healthy breakfast Bring heathy snacks Test like a Viking! Please see the attached testing schedule:
https://5il.co/r8jc
These tests are important for your child's school (letter grade, extra funding) and important for your child (to measure content mastery, college acceptance). We wish everyone a healthy and happy testing season!

Hello Falcon Families: Hope you enjoyed the extra day off this weekend! This Wednesday kicks off our important state testing at WEMS. Please click on the link below to see each grade's test days.
https://5il.co/r88n
Remote Learner Families: We need your child(ren) to test just the same as our on-campus learners. Please have your child(ren) report to WEMS between 7:45 and 8:00 a.m. every day that your child's grade is scheduled to test. Masks must be worn and social distancing will be in place. If you need to make alternate test arrangements, please email the principal at
cmorrison@wusd2.org
by Friday, April 9th. Thank you, Falcons! Let's rock state testing!
Did you know that graduating seniors can take one class or even attend Coconino Community College full time for FREE this summer?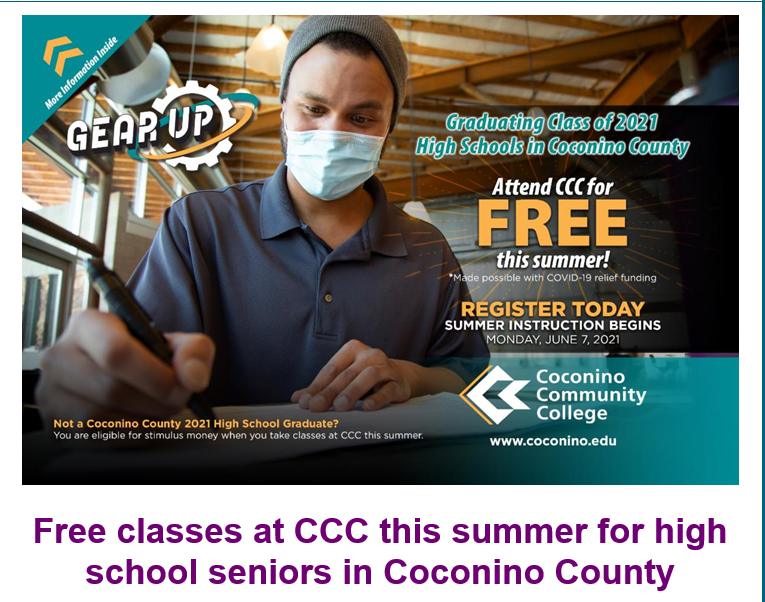 Greetings WUSD # 2 Families: There will be no school Monday April 5th for WUSD # 2. Please enjoy the long Easter Weekend. Thank you!

Greetings WUSD # 2 Families: Due to today's snowy weather, WHS Friday Tutoring and today's Baseball/Softball games @ Joe City have all be cancelled. A message was already sent out on Wednesday stating that there would be No Falcon Flyers today. Stay warm and stay safe.

Greetings Vikings: Reminder: Tomorrow (3/25) is a special spirit day with Volleyball Homecoming Rematches! 9th graders: dress in all black 10th graders: dress in all purple 11th graders: dress in all blue 12th graders: dress in all white Volleyball games: 1:30-2:30 in the gym with music (singing along & dancing is highly encouraged) 9th grade vs. 10th grade - game 1 11th grade vs. 12th grade - game 2 winner of game 1 vs. winner of game 2 - Championship Game Let the games, spirit, bragging rights, fun, and competition begin! #GoVikes

Greetings Vikings: We apologize for sending this to all of WHS, we will have specific lists for spring sports only soon. No practices today (Golf/Baseball/Softball) No games tomorrow Friday: Double Header @ Joe City Varsity only 1 & 3 pm Saturday: Softball only @ Mingus (Cottonwood) Varsity @ 3:00, JV @ 1:00pm

Greetings Williams Unified: Road conditions continue to be an issue. There is a semi rollover on I 40 Westbound involving 2 semis that have the highway closed WB. We have buses, staff, students, etc. that come from Flag, Parks, Valle, etc. There is no estimated time to reopen the highway, per ADOT. For these reasons, we are cancelling school today for all of WUSD # 2 . Parent Teacher Conferences at WHS will be rescheduled. The Board Meeting will still take place tonight at 6 pm. Thank you for your patience and understanding. Stay safe and Be Well.

Good morning WUSD. Due to icy road conditions, WUSD will be on a two hour delay today. Transportation will still be provided. Classes will start at 10 am. Thank you and stay safe.

Greetings Vikings! CLARIFICATION: All Baseball/Golf/Softball matches/games are cancelled today. Boys Baseball - no practice Girls Varsity Softball - meeting after school (3:45) in the gym JV Softball practice - in the gym 4:00-5:30 Thank you!

Greetings and Good Morning Vikings! Happy 2nd day of Spring! Due to today's inclement weather, baseball, softball, and golf have all been cancelled for today. Stay warm, stay dry, stay safe! Thank you. Mr. Evans***

Good Evening Falcon Families! We hope you join us this Thursday, March 25th for Spring Parent-Teacher Conferences. Elementary conferences will be at teachers' classrooms and middle school conferences will be in the gymnasium. Conferences are from 5-7 p.m. and we hope to see you there! #JoiningTogetherForSuccess


Due to inclement weather, today and tomorrow's Falcon Flyers/Boys Girls Club are CANCELED. All students will be sent home after school today via their regular transportation method. Further, middle school volleyball practices will be shortened so that early practice is 4-5 p.m. and late practice will be 5-6:30 p.m. Drive safely and have a good spring break everyone!

Attention families with remote learners: Tomorrow is our last open day to have students come in to take their quarterly benchmark assessments. Mr. Wollman and Mrs. White will be taking students from 9:00-3:00 on March 9th to complete their assessments. It will take your child approximately 1 hour to complete this. It is crucial that all remote students take periodic assessments so that we can adequately gauge student growth. Last week we only had 5 of the 70 students come in for their assessments. Please help us meet our goal of having 90% of our remote students take their benchmark assessments. If you are unable to come to school tomorrow for this assessment, please contact Mr. Wollman at
awollman@wusd2.org
to make other arrangements.

Alright, Falcons! We have one week left of school before Spring Break! Let's finish the quarter strong by putting forth our best efforts, excelling academically, and showing our Falcon Pride! This week is Spirit Week! Monday--Crazy Hat Day; Tuesday--Decade Day; Wednesday--Pajama Day; Thursday--Extreme Spirit Day. Let's have some fun while we learn!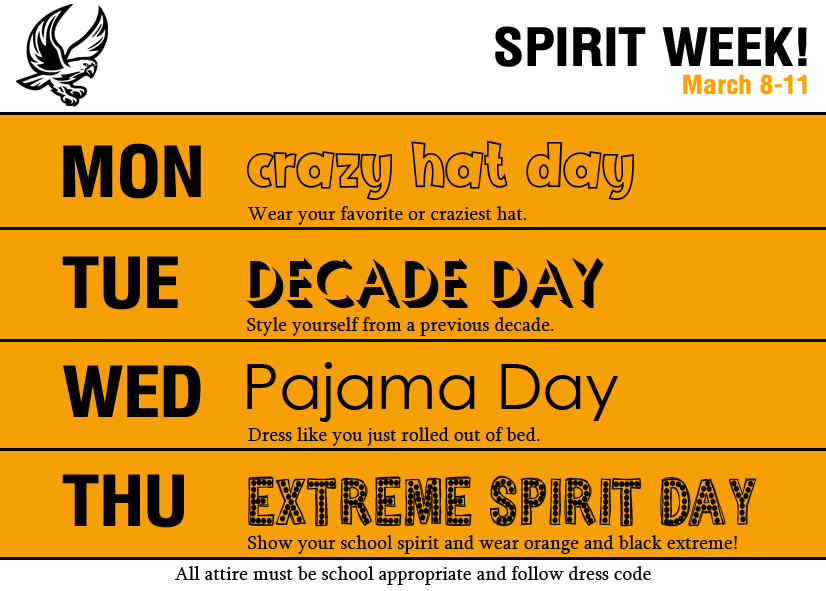 NEWS RELEASE: PHOENIX, AZ (3/2/2021) – Due to improving Covid-19 metrics (decreasing Covid cases, increased hospital bed capacity, etc), the AIA Executive Board voted to approve removing the mask mandate for the Spring season, Winter playoffs including Spiritline. Students, coaches, and officials must wear a mask when not actively playing or in the field of competition. All spectators in attendance for a contest must wear an approved mask or face covering. Please note that mesh face masks are not acceptable face coverings. All other Covid-19 modifications remain in place.

Families: Nominate one of our AMAZING teachers for The Silver Apple Teaching Excellence Award! A WUSD#2 teacher may be nominated by any Kinder through 12th grade student. The nomination form needs to be signed by a parent and then turned into the school office for principal signature by March 11th. If your teacher makes a difference in your life, let him or her know with the Silver Apple Award! Nomination forms can be found at school offices or click on the link below:
https://cdn.lmgcorporate.com/phxdigital/community/SilverAppleNominationForm.pdf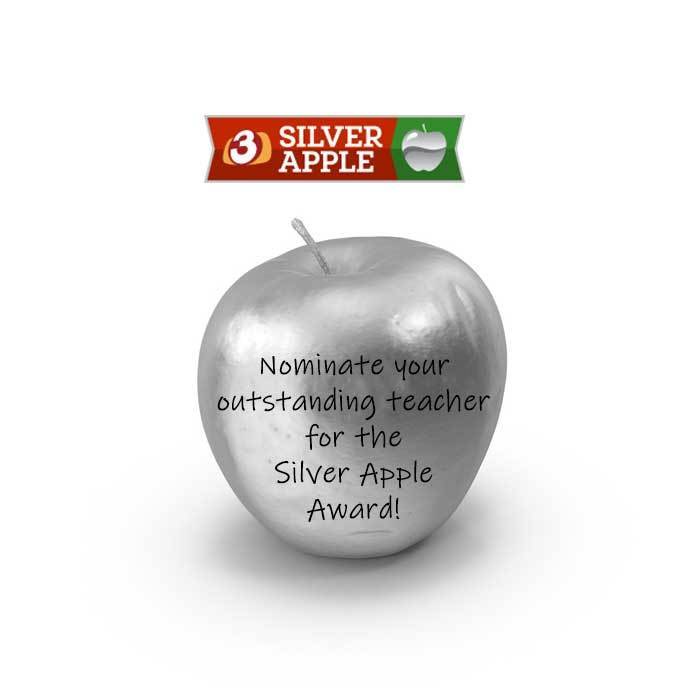 FREE TAX PREP Hi families - it's tax time. Check out these flyers about how to get your taxes done for free by IRS Certified Preparers. Call 928-919-9277 or visit
http://taxaideflagstaff.setmore.com
Hurry - Williams Senior Center is already booked through March 23. No age limit. No income limit.